im going to say my words in prose
I liken you Elvis to a Heaven sent Rose
You started so young like the rose in bud
And Bloomed as you grew, into a handsome stud
You lived youre life, Under gods sunshine
And touched all our lives, not just mine
like the rose youre sweet perfection, winning all our hearts with true affection.
but just like gods delicate flower, that needs the sun and rain to sustain
its glow on earth, to maintain.
you needed our love and boy did we give it
we hoped our love could calm your fears, youve lived with it for many years.
But just like that rose you had your time in the sun, living your life, sometimes was trial but mostly fun.
like the rose when it loses its shade, its life in the balance starts to fade.
one blaze of brilliance then its gone, but the memory of its beauty lingers on.
just the same Elvis with you, a brilliant star all shiny bright, twinkles and shines then slips peacefully into the night.
you glowed with brilliance, now youre gone, but like the words to a lovely old song, how great thou art, and still are.
but we wont worry youve not gone far, youre up in heaven like a glorious
star.
so we wont worry we shant fret, we will see you someday but not just yet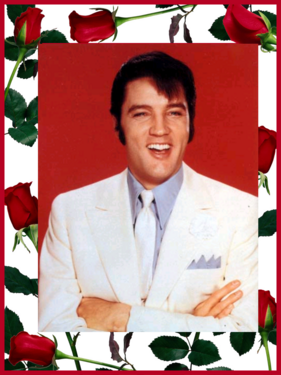 julie