---
WOW!!! GOD is really blessing her.... What a GIFT!!!!


One painting I really loved is this one....



And the next picture is a feeling Manja has.... She always want to be a horse.... In freedom.... and then the bubbles and the butterflies..... brrrrr gives me the goosbombs...


Butterfly Passion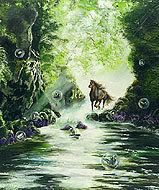 Marching across the straining view,
saddles are on their own.
The pounding hooves like crushed bells
start suddenly to moan.

When I hold the armed love,
controlling the courage in oak boats,
spoiled and regenerated sunbeams
cross the country raspberry roads.

Glittering landscape by the shores
is a newborn faith beaten by the countless waves.
Everything tempts me to love you...
Everywhere I run, love rains...

The revelation of the butterfly passion
in front and back throbs the same.
What a fresh smell of your eyelashes-
I braid them along with my mane!

In midsummer we are like two young angels,
inhaling love one motion at a time.
Your legs walk on mine, stepping on love,
and right away I sense the meaning of life.

To be born together, yet years apart,
we both rush out of the womb...
My eyes are blurry, yours are so clear,
when I carry the river to you.

Your tears are free,
but mine are armed from above.
Let me hold our courage,
so the courage could arm our love!

THE CHALLENGE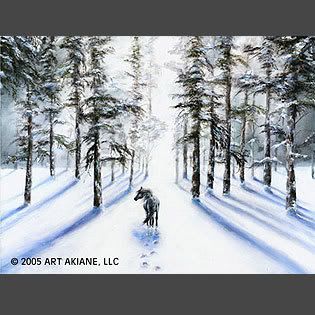 …The maze and the challenge of the choices.
The light is ahead for the journey to continue safely.
But because of hunger, exhaustion, the hunger,
the cold and the shadows the horse is losing its focus.
The blue is the color of the mind,
therefore I painted the shadows blue to create a mental challenge,
the confusion.
The challenge for the tired horse is which direction to choose.
This is an allegory about our choices…

***
…When I brought this painting to my printer,
we both thought that because I'd used just a few colors,
it would be the easiest to make the reproductions from.
But it turned out to be the hardest.
It turned out to be the true challenge.
I doubt it was a coincidence…

-Akiane




The Pyramids


…In one of my dreams I saw the image of white pyramids
beaten by the ocean waves and surrounded by live bubbles.
Unlike most of my paintings,
I had no idea what those symbols meant, but I painted them anyway.
Today the meaning still remains a riddle...

In FACT all paintings and poems are straight from the SOUL.. SO BEAUTIFULL !!!

THANK YOU MAIA, for given us this link.....