As a quick update to the show: Joe(my husband) and I watched the male celebrities dance on Mon. and they all did a pretty good job.
As sweet Laurie said, the female celebrities danced last night, and we watched that too. I think the best score of the night went to Kristi Yamaguchi who is a U.S. Olympic Gold Medalist figure skater.
She and her professional partner scored a 27 out of a possible 30.
The second best score of the night did in fact go to Priscilla and her professional partner with them scoring a 24 out of a possible 30.
I have to admit that she did a pretty good job with her dance which was the foxtrot and even one of the judges said that she did a "good and proper foxtrot."
Tom Bergeron(1 of the hosts of the show) actually referred to Priscilla as "Rock Royalty."
Anyway, the competition has fully begun now, and if you all would like, I will do my best to keep you posted as to how it all goes.
Here is a picture and video of Priscilla dancing so you can see what she looked liked and how she did.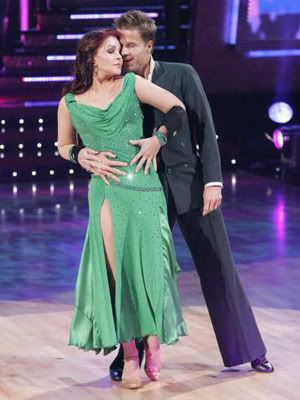 http://www.youtube.com/watch?v=vV-SRpbMk2I