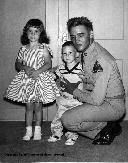 EVEN NOW, AS I WATCH the faded bit of film and I see a shy little girl in a striped sundress standing next to Elvis with his hand on my shoulder, I'm awestruck. He's laughing and joking, eating a baby sweet pickle, dressed in Army khakis and playing the star to my dad's home movie camera when he leaned over to kiss me on the cheek. Even though I was only 5 years old, I knew Elvis was someone special as I wiped the pickle juice off my cheek.
I can still remember how exciting it was to have Elvis as a guest in our home. His arrivals were always dramatic. One Sunday afternoon as I was gazing out the window, a black Cadillac pulled up to the side of our house followed by another and then another until a stream of Cadillacs lined the street. "Elvis is here!" I shouted and charged top speed through the house. My mother was frantic. Suddenly a houseful of hungry guests were thrust upon her. My dad was thrilled to see his friend again. Elvis' visits always sent ripples not only through our household, but the city as well. Although I was only five years old, I knew Elvis was someone special by the way all the grownups acted.
During another of Elvis' visits I heard someone say "Looks like trouble out there. Somebody better call the police." When my father looked out the window he saw a mob of teenagers approaching and some were wielding baseball bats. My dad immediately went out to meet the kids and find out what they wanted. "We know Elvis Presley is in that house and we want to see him. Even if it takes force." My father came back in the house and told Elvis what was going on. Elvis quietly went outside flanked by two bodyguards. As soon as he stepped out the door, the crowd took a step back. They were shocked to see Elvis actually appear. As he talked to the teenagers, they sat cross legged on the ground, captivated by every word. He soon had everyone laughing and in a few minutes they were gone, carrying autographs and memories that would last them forever.
Elvis touched many lives in different ways but my memories and perhaps the memories of millions worldwide have given Elvis an immortality that no other entertainer has ever achieved.