hi guys i dont know whether youve seen the movie Beaches but its a great feel good film, its one of my faves, ive just brought the book Beaches by IRIS RAINER DART , and Beaches 2 i'll be there Allso by IRIS RAINER DART .
i found this review on radio times website
Beaches
(1988)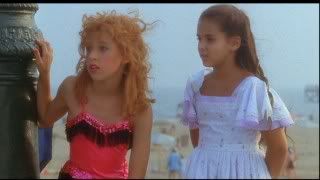 young cc bloom first meeting
2nd meeting when older
A movie about a lifetime relationship between two women makes a refreshing change, especially when it stars powerhouse Bette Midler and Barbara Hershey. They both make the most of their roles here as the grown-up friends from completely different backgrounds, who first met as 11-year-olds and, despite various setbacks, have remained close over the years. Pretty Woman's Garry Marshall directs slickly and Hershey is very appealing as a poor little rich girl, but the movie belongs to the astonishing Midler, playing a brash, selfish singer. This drama is at its best when Midler gives free rein to her character rather than when it slips into schmaltz. SH
Released nearly seventeen years ago, Beaches is probably as well-known as any other Touchstone Pictures film. It is the story of two lonely girls who meet on the beach at age 11. Cecilia Bloom, who goes by CC, is a larger-than-life redhead with abundant talent and even more ambition. She smokes, calls her mother (played by Lainie Kazan of My Big Fat Greek Wedding fame) by her first name, and throws tantrums at her song-and-dance auditions. Hillary Whitney, on the other hand, is a well-mannered and wholesome daughter of immensely wealthy parents, whose expectations leave her feeling suffocated in life. Though their time together is brief, they keep in touch over many years through written letters.
When Hillary, now an adult (Barbara Hershey) leaving behind the life she could no longer tolerate, shows up at the nightclub where CC (Bette Midler) works one night, the two meet for the first time in decades and the story of this remarkable friendship really begins. That's really what the film is, a look at the life-long evolution of true friendship, both strained and strengthened in the course of time. CC's singing career fluctuates from dismal failures to famed successes while Hillary lives in her shadow, a source of strength and support. Through boyfriends, husbands, divorces, and the occasional love triangle, the bond perseveres. The story meets with true poignancy when their friendship faces the ultimate hurdle: the looming shadow of tragedy.
Beaches is far from a perfect film. Its biggest flaw is its incredible and at times unrealistic pace. As it plows through the story at lightning speed (yet still manages to feel just slightly too long), it's not unlikely that the viewer might be temporarily distracted. Fortunately, that's quickly overcome. Granted, the story takes place over a long span of time, but many other films have dealt with larger blocks of time and have done so more successfully. Some of the dialogue flirts with being what many might call corny, but it avoids being overly sappy. A product of its time, the 1980s are firmly impressed on many scenes, dating the film a bit, but not at the expense of its ability to retain qualities of timelessness. In fact, once you can get past its imperfections (and it's not hard to do), it largely succeeds at being an extremely touching film. In fact, the UK's Channel 4 recently placed it at number 12 on their list of the 100 Greatest Tear-Jerkers of All Time, which comes as no surprise, as it seems to be widely regarded as such.
While it's not a musical, its storyline revolves around a striving entertainment star and as such features several memorable musical numbers, ranging from the exotic to the scandalous to the moving, including Midler's cover of Dumbo's "Baby Mine." Of course one can hardly discuss Beaches without bringing up "Wind Beneath My Wings," its signature song that dominated radio waves, garnered 1988's Grammies for Song of the Year and Record of the Year, and took on a life of its own. From its memorable dedication to Johnny Carson on his second-to-last night on the air to its use in countless weddings and funerals around the world, this incredibly powerful song is one of the movie's finest strongpoints and perhaps its most enduring legacy.
Bette Midler is unquestionably the film's star and, in typical fashion for the actress, carries it with ease, even if the comicly aggressive character isn't much of a stretch from her usual roles. Barbara Hershey does a fine job as well, as does the supporting cast. Garry Marshall's direction is unsurprisingly graceful, as he's in his medium of expertise with "tear-jerkers," allowing for an involving viewing experience without ever really becoming overwhelming.
Instances of strong adult language, some mild sexual situations, and one mildly risqué musical performance, "Otto Titsling" (edited out in TV airings), earn the film its PG-13 rating, though to be fair, it's much tamer than today's typical PG-13 fare.
CLOSING THOUGHTS
Though it's very popular, Beaches isn't without flaws. Yet despite an alarmingly fast pace and moments that are distinctly 1980s, it largely succeeds at being a very moving and transcendent film. It is the tale of friendship, and while that's been done before (even through letter writing), the film offers its own fresh lens for perspective. It is an indictment of the human ego and the jealousies it can spawn, as well as a celebration of friendship's ability to overcome those hurdles. It speaks of the truisms of life and does so in a subtle way, which is the key to its success.
this part above i found in a review of the movie online
if you ever get the chance watch it its a great movie, a real weepie and allso its found a lot of women love it for obvious reasons
if it ever comes on tv again i could record it to dvd and maybe if anyone would like to see it, then you could share it about, its a thought, ive been looking for lots about it on website's
i saw it on tv recently and recorded it, i know its not elvis related but i wondered if it would be ok to put on here, its captured my interest again lately, ive just started the first book , and it looks good, id always wondered what actual book was like , so i got 1 and 2 in used books recently
shame elvis could not have seen it isnt it, i dont know if hed have liked it so much as us girls lol