Lisa became her 2nd saviour I guess,and hope she(priscilla) would learn to preciate this one day.. all those right looking decisions(I only agree with not selling the house,along with agreeing she has a bussiness mind !!for sure,still don't know who was the real person to see it's benefits in long term),turned to the opposite lately specially right after merging with that greedy company,and leasing the house was a big mistake which got out of controll..yet it gives her the opportunity of being in the spotlight..after all this is all that matters...
Craft Manor Apartments Inc., an Elvis Presley Enterprises (EPE)-affiliated company, has bought an apartment complex on Craft Road for $6.5 million from Southern Hills Court LLC.
The 182-unit apartment complex is at 1094 Craft Road, west of Elvis Presley Boulevard. Built in 1961, the apartment complex formerly was called Southern Hills Apartments. The name has been changed to Craft Manor Apartments.
Phone messages left at EPE were not returned by press time. But EPE has been buying properties around Graceland with the intention of making millions of dollars worth of improvements to the area.
"We've got an ownership group with very deep pockets and significant intention to invest in the future of the Elvis legacy," EPE president and CEO Jack Soden was quoted as saying in a Jan. 14 Commercial Appeal story. "If we make Graceland as big a draw as we think it can be, we are going to suffer if we don't control the doughnut of land around us."
In December, EPE bought China Buffet, a restaurant on Elvis Presley Boulevard for $1 million. At that time, Todd Morgan, a spokesman for EPE, told The Daily News it was the beginning of the organization's efforts to invest in properties near other EPE-owned properties.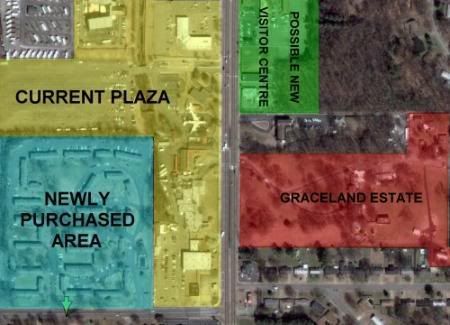 don't think Elvis would be proud of this picture of his hometown..