---

IT MAKES MY HEART SING TO READ....


And YES, IT IS ARCHANGEL MICHAEL... who I´M talking about... MIKA´EL....


LIVING LIGHT

SUN OF OUR LORD JESUS
GRANT US THIS LIGHT FOR OUR LOVE,
RAYS OF HOPE, AND WARMTH FOR PEACE THROUGH FAITH

CLOUDS IN THE SKY,
MOVE AND LEND US YOUR COMFORTING SHADE

OH STARS, OFFER DREAMS TO THE WEARY AT NIGHT
FOR IN DARKNESS WE SEARCH FOR THE LIGHT

SOIL OF OUR FATHER,
OFFER US UP FOOD FOR OUR WORKS,
THAT WE MAY BE NOURISHED FOR A NEW LIFE THIS DAY

PEOPLE GATHER AROUND,
OPEN DOORS AND WINDOWS WITH SOUNDS,
SO THAT WE REMEMBER THAT WE ARE NOT ALONE

OUR GOD HAS PLANNED THIS WELL,
AND WE SEEK THE SIGNS AND WONDERS THAT TELL

WHAT THE MAJORITY SEEK IS PEACE, LOVE FOR THE DIVINE,
A LIFE WONDROUS TO BE HAD AND ENJOYED BY ALL

WHEN WE COME TOGETHER FOR THIS
THEN THERE WILL BE TRULY BLISS
FOR OUR LIFE WILL BE COMPLETE ONCE AGAIN

WE WILL BE ONE, AND PREPARED TO LIVE IN PEACE
WITH THE SON, OUR LORD JESUS, AMEN

ANNO DOMINI SPIRITUS SANCTUS, AMEN

"UNCONDITIONAL LOVE ALWAYS, LOL, LIGHT, BLISS, AMEN"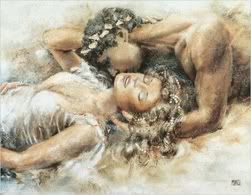 ADAM & EVE TOGETHER THEY ARE ONE... AGAIN... FINALLY...


WE ARE ONE
WHEN THE SUN SHINES BRIGHTLY
IN THE DAYTIME

WE ARE ONE
WHEN THE MOON BRINGS FORTH
ITS NIGHTLY GLOW

WE ARE ONE
WHEN SOULS UNITE IN LOVE SO FAIR
IT MAKES THE HEART SING

WE ARE ONE, WE ARE ONE, WE ARE ONE

...GOD LOVES YOU AND SO DO WE...AMEN...FOREVER...